Written by Andy Preston
Thursday, 27 November 2014 02:25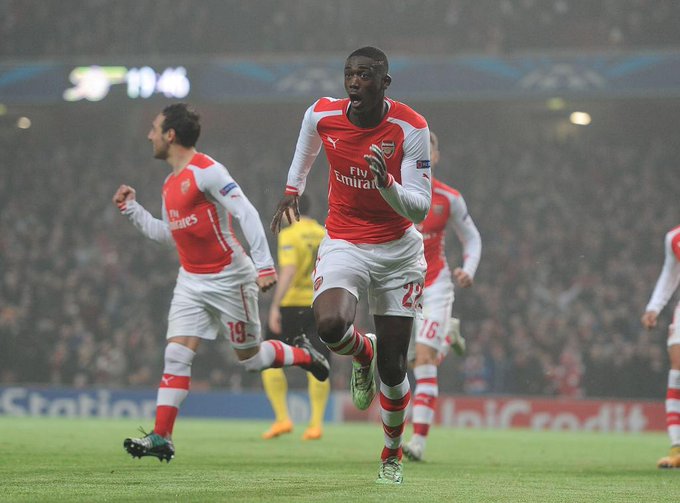 Following a bitterly disappointing 2-1 defeat at home to Manchester United in our last game, the Gunners turned it around tonight with an impressive 2-0 victory over Borussia Dortmund to end their 100% record so far this year in the Champions League.
Arsenal started brightly with a first Arsenal goal for 21-year-old Frenchman, Yaya Sanogo, who tucked the ball through Weidenfeller's legs inside of two minutes following a back heel to Santi Cazorla who returned the ball to Sanogo with a clever reverse through pass.
Sanogo found himself through on goal again just minutes later, however failed to convert this time as he hesitated and was let down by a poor touch seeing the ball swept from his by a Dortmund defender.
Dortmund's chances were certainly few and far between, however a crucial Kieran Gibbs tackle prevented Aubameyang from charging through to the Arsenal goal. A close range save from Emiliano Martinez kept Dortmund at bay late in the first half to see Arsenal progress in to the second half with a 1-0 lead.
Written by Terry Bong
Saturday, 15 November 2014 04:08
Arsenal are targeting a January move for Juventus midfielder Claudio Marchisio. He has been linked with a big move to Manchester United in the last few months, but failed to make the switch. Now the Daily Mirror website is suggesting that the Gunners are ready to swoop in and tempt Juventus into selling. The Italian international turns 29 in January and has been born and raised in Turin.
According to the Daily Star website, Arsenal have set their asking price for striker Paulo Dybala. Scouts have been impressed by the kind of ability he has been showing, resulting in the South American star being linked with a move to Arsenal.
Palermo president Maurizio Zamparini told Italian Radio CRC that it would take a "mammoth offer" for him to consider selling Dybala.
Written by Terry Bong
Saturday, 15 November 2014 03:34
Arsenal near £26m deal for Barcelona's Pedro, reports Metro. Arsenal are hoping to sign Pedro from Barcelona when the transfer window opens in January as Wenger might as well just got himself a traditional winger.
The Spain international was promoted to the first-team at Barcelona during Pep Guardiola's reign at Barcelona. His incisive movement from wide positions and capability to play on either wing produced 15 goals in 37 league matches last season. However, since Luis Enrique took over this season, he has only played 90 minutes in one league game.
The winger insists he remains supported at Camp Nou:
"The coach is giving me a lot of confidence and he speaks to me even though I'm not getting in the team," said Pedro, per the aforementioned report. "I know it's hard to play at Barcelona, so I will continue to give my all and do well.".