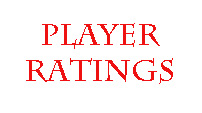 Some say Arsenal have no chance in hell; that the phrase 'anything can happen in football' simply does not apply to this game.
However, I am encouraged how many fans have got behind the team before this game with complete faith the Gooners can replicate or better the result at the Allianz from last season.
History and statistics suggest Arsenal face a mountainous task and there is no denying that. But we all remember what happened against Inter in 2003; Real Madrid in 2006; and Milan in 2008.
Fabianski – 8 - What a brilliant penalty save. Robben's antics during this tie have been despicable for a player of his ability.
Sagna – 7 - He had to deal with Alaba and the third best player on the planet and he did superbly. Please, just give him a contract; he has deserved it for his wonderful performances this season.
Koscielny – 7 – A solid performance just like last season. Defenders have to be against a team like Bayern or else they will humiliate you. Fouled Robben in penalty area.