Details

Written by

Praveen
Maurizio Zamparini and Jean-Michel Aulas have spoken to the press about the future of Paulo Dybala and Alexandre Lacazette respectively more than the players themselves and the Lyon president has now even predicted the destination where the French striker would end up at stating that Paris Saint-Germain are already out of cards.
Arsene Wenger has been advised by former players and supporters to bring down an upgrade to Olivier Giroud this summer while Jackson Martinez, Paulo Dybala and Alexandre Lacazette are believed to be heading to Premier League next season.
Details

Written by

Praveen
Thierry Henry recently admitted his fondness for his countryman Olivier Giroud to save his cult image from getting torpedoed further, but recent reports suggest that Arsene Wenger may have listened to his former striker as Arsenal are believed to offload the former Montpellier marksman in favour of Karim Benzema.
Olivier Giroud has enjoyed a roller-coaster season scoring seven goals in six Premier League games before going on a goalless run of eight games. Such inconsistency has, thus, resulted in huge number of Arsenal supporters calling out for a striker signing in the upcoming transfer window.
Details

Written by

Daniel Hobson
As the Premier league season drew to an end yesterday it must be time for the transfer window. Often known as 'silly season' the rumours will keep on coming and means there will be plenty of reporting.
The news this hour concerns the Porto striker Jackson Martinez.  It is the information of Kike Marin that Arsenal have decided to sign Martinez with Porto replacing him with Alberto Bueno. Kike is well known within Spanish football and is reliable.  Just to add bit more substance to the news Kike was the first to report the Alexis deal last summer.
Details

Written by

Praveen
Steven Gerrard may have played his last game for Liverpool, but the Merseyside outfit seem to have replaced the veteran with a more versatile and younger version of the former England captain as it is rumoured that James Milner has chosen to play for the Anfield club next season snubbing Arsenal on course.
Arsenal were amongst a host of Premier League sides, who were keeping tabs on the England international given his imminent Manchester City departure, but it is now evident that the Gunners have lost out on their transfer target.
Details

Written by

Praveen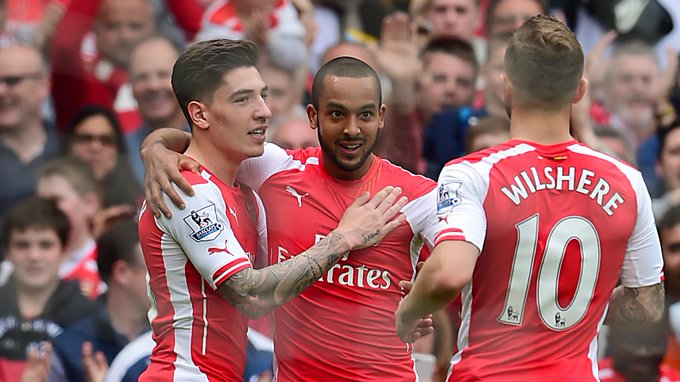 Theo Walcott showed Arsenal what they would miss in the event of offloading him with a first-half hat-trick against West Bromwich Albion in the final game of Premier League, but English media suggest that the former Southampton starlet may still be used as Raheem Sterling bait this summer.
The 27-year-old is entering the final year of his contract and it is believed that Arsene Wenger is adamant not to let him mess around by setting a deadline for him to decide on his future with the Gunners.
You are here:  
Home

News & Rumours