Details

Written by

Luke Peterson
With the Gunners out of the two trophies Arsene Wenger is yet to win, things seem to have gone back to old ground in more ways than one.  We are used to seeing Arsenal challenge for the FA Cup and Premier League, especially once February and March hit and only two trophies remain, and now the team must go back to an old ground: Old Trafford.
Arsenal. Manchester United. Two great teams, one great rivalry and tomorrow, Saturday 12th March, will see a rebirth of that rivalry, in the FA Cup Quarter-Final.
The Gunners seem to have dealt the fans their usual trick at this stage of the year and imploded. However, although a shocking result in the League Cup final was followed by a clash with a hugely dominant Barcelona side, the two remaining trophy possibilities provide fans with the best memories. With Man Utd. dropping form as well as points, there may be no better time to play the 11 times FA Cup winners. With a sense of injustice circling around the Arsenal camp, the North London side may just come out tomorrow with something to prove. In plainer terms, the Arsenal mindset may be perfect for a tough game at the Theatre of Dreams.
Latest team news
The now normal Arsenal injury crisis has begun to hit. Cesc Fabregas will miss 'maybe two games' according to Wenger and although Robin van Persie is available for tomorrow's game, there have been questions over his fitness thoughout the week. Alex Song and Theo Walcott remain out, whilst Thomas Vermaelen says he does not know when he will be able to play again.
However, a more immediate concern for Wenger and Arsenal fans alike is the goalkeeper situation. Analysis of Wojciech Szczesny's dislocated finger has suggested an injury lay-off of around six weeks. The same time period has been placed on Vito Mannone's thigh injury while on loan at Hull. With Lukasz Fabianski already ruled out for the rest of the season, Manuel Almunia remains the only fit first-team goalkeeper, leading Wenger to say: 'We absolutely need some cover in goal.'
Even James Shea, the most promising youth goalkeeper in Arsenal's ranks has a slight injury, leaving 17-year-old Sean McDermott and 18-year-old Damian Martinez as the only other available goalkeepers. An emergency loan is the best and possibly only option available to the manager. Tomorrow however, expect McDermott to be placed on the bench. As with the last meeting between the two rivals, the game will act as the start of yet another change of first-choice 'keeper for the season.
No single player is likely to be rested against the Red Devils on Saturday, with the league and FA Cup assuming added importance after the recent events in Arsenal's season.  Expect both sides to field full-strength teams in a game which could be the turning point in the race for the League title as well as the FA Cup itself.
Predicted starting line-up:
GK Manuel Almunia, RB Bacary Sagna, CB Johan Djourou, CB Laurent Koscielny, LB Gael Clichy, DM Abou Diaby, DM  Jack Wilshere, CM Tomas Rosicky,  RW Samir Nasri LW Andrey Arshavin, CF Robin van Persie
Details

Written by

Rob George
Arsenal step into the Nou Camp tonight defending a 2-1 lead and aiming to slay one of European football's giants and put themselves right in contention for a tilt at the Champions League trophy.
But despite the advantage, the Gunners will not be favourites to progress against a team containing the likes of David Villa, Leo Messi and the ever-reliable Xavi while Arsenal are missing the likes of Alex Song and have question marks over the fitness of skipper Cesc Fabregas and Robin Van Persie.
The Catalans will still be scratching their heads as to how they are 2-1 behind after creating so many chances but there is no better team on home soil than Barcelona. While coach Pep Guardiola has a bad back, it's Arsenal's own back-line which causes the most concern, especially with memories of a Messi mauling just under 12 months ago still fresh in their minds. Arsenal's 2-1 win at the Emirates three weeks ago was their first victory against the Catalan giants – Barcelona have recorded three wins in six meetings between the sides which included a 4-2 win at Wembley in the same competition in 1999.
And since the first meeting Barcelona have recorded four straight wins in La Liga, conceding just one goal, leaving them seven points clear of Real Madrid – a team who have not lost at home all season and are fresh from a 7-0 hammering of Malaga. In all Guardiola's men have won their last eight games at home meaning Arsenal will step into a fortress when they take to the field in Catalonia this evening.
Time to give up then? Erm not quite, Arsenal's record in the European competitions when they have won the first leg is staggering. They have progressed to the next round on 14 of the 15 occasions they have won the first encounter and many in the camp, Wenger included, will believe that it is Barcelona who have to make the running in this one. A draw or a win for the Gunners will see them progress while Barcelona have to triumph on the night to make it through.
Selection-wise Wenger will be without Song and long-term absentees Thomas Vermaelen and Fabianski while Van Persie, Fabregas and Wilshire are all carrying knocks. Guardiola has problems himself with Carlos Puyol and Gerard Pique absent through injury and suspension. The absentees are unlikely to affect the managers thinking and it would be surprising to see either change from the fluid 4-3-3/4-5-1 line ups they both crave.
For Arsenal a lot will rest on the young shoulders of Wojciech Szczesny who is sure to have a busy night while Abu Diaby is expected to take on the Song role of a screen in front of the back four to try and break-up Barca's rhythm before they unleash the devastating results. But the front three of Nasri, Arshavin and Van Persie/Bendtner also have a crucial role as Arsenal simply must take any chance that comes there way to ensure they keep the pressure on Barcelona. For the Catalans you need look no further for a key man than Lionel Messi, poor record in England but as last year showed, Leo the lion can be simply devastating among his own pride.
Referee Massimo Busacca will be the man in the middle tonight and Arsenal enjoy a mixed record with the Swiss offical. One win, one draw and one loss have occurred when Busacca is in charge – ironically the draw came in last season's Champions League against you guessed it, Barcelona!
Busacca has not shown a red card this season in the Champions League and I expect him to let the game flow and only issue cards if necessary.
Kick-off is hours away, for Arsenal and Arsene Wenger this is the ultimate test in a week of challenges, win and they can forget Birmingham City and the horrors of Wembley in the Carling Cup final, lose badly and the doubts will creep in again over whether the young lions are nothing more than nearly men.
Possible Arsenal line-up – Szczesny, Clichy, Djourou, Koscielny, Sagna, Diaby, Fabregas, Wilshire, Nasri, Arshavin, Van Persie/Bendtner.
Details

Written by

Tom Varga
After disappointing Carling Cup final defeat, the Gunners will be looking to bounce back and show their resilience against Leyton Orient to hopefully progress to the next round of the FA cup. Wenger, Rosicky and Chamakh have already spoken out about the need to keep heads high and the next game will be vital to how Arsenal react for the rest of the season, we've seen the North Londoners crash and burn at this stage of the season before and players and fans alike will be hoping that they won't have to wait another year to challenge again for major honours after a string of bad results.
Form
Prior to Sunday, Arsenal hadn't lost a game since falling to Ipswich in the first leg of their Carling Cup semi-final tie. Whilst the Gunners have been in good form, they have shown signs of cracking such as throwing away a four goal lead against Newcastle. It's really hard to say how Arsenal will react considering Leyton Orient will be more than up for another upset with themselves also unbeaten in 5 games.
Latest team news
Wenger may be tempted to keep Szcznesy and Koscielny out of the spotlight after their Carling Cup mishaps and bring in out-of-favor Almunia and Squillaci/Miquel. We've seen him protect his players in similar situations before e.g. Senderos after Arsenal Champions League exit a couple of seasons ago and it would not be a surprise if Arsene did it again especially after describing them as 'destroyed' in his Birmingham post-match comments.
Tactics
Wenger may choose to rotate his squad with a home advantage and it is possible that we'll see a similar team to the first game against the O's. We could see starts for Eboue, Gibbs, Rosicky, Denilson and Chamakh who will all want to stake their claim for a starting XI spot knowing that some players might feel fragile after the final defeat. Rosicky is likely to captain the side and will hope to put in a much better performance than the Carling Cup final, which left a lot of fans frustrated knowing he could do much better.
Possible line-up
Almunia; Eboue, Squillaci, Djourou, Gibbs; Denilson, Rosicky, Wilshere; Bendtner, Chamakh, Arshavin
Details

Written by

Arsenal Latest
As we approach what many call the 'Business End' of the season the League Cup offers the opportunity to its participants for the first piece of silverware of the season.
For Arsenal, as many continue to remind Arsene Wenger, it poses the chance to win silverware for the first time in six years. Many of the young Arsenal stars are coming if age and a well rounded and more experienced squad this sees them as the only team left in England with the chance to win a unprecedented quadruple.
Wenger also believes that winning the Carling Cup could prove as a springboard in giving his side the experience of knowing how to win a trophy. It has been clear from the beginning that the Arsenal manager has decided to take this competition more seriously this season. Starting most games with a good mix of first and youth team players, whereas in the past this competition was set aide solely for youth development.
Birmingham on the other hand, cannot boast such luxuries and have largely played their first team in all competitions. Obviously The Carling Cup represents their only chance of winning a trophy this season and combined with the possibility of relegation, they will be throwing everything at The Gunners tomorrow.
Incidentally, a Birmingham win tomorrow would see the biggest League Cup final upset (2nd in the league v 15th) since Manchester United lost to Sheffield Wednesday in 1991 (4th v 3rd in second tier)
Previous League Cup Meetings
The two sides have only previously met once in this competition. Back in 1997 when Arsenal won 4-1.  They have played both fixtures in this seasons Premier League, Arsenal winning both, 0-3 at St Andrews and 2-1 at The Emirates.
Arsenal last reached the final back in 2007, and after going 1-0 up through a Theo Walcott goal, a largely youth based team ended up being rattled by Chelsea and lost 2-1. Arsenal have previously reached five other League Cup finals, loosing three and winning two. The last time they won this competition was in 1993 when they beat Sheffield Wednesday 2-1.
Birmingham have reached the League Cup final on two occasions. Most recently in 2001 when they lost 5-4 on penalties to Liverpool. Before that you have to go back to 1963 when they beat Aston Villa 3-1 on aggregate.
Latest Team News
A distraught Cesc Fabregas has been ruled out of the final after picking up a hamstring injury during Arsenals mid week 1-0 win over Stoke. The Arsenal captain came off after less than fifteen minutes of the first half. He tweeted after the game "I don't know if I'll make Sunday or not, but all I know is that from this moment to Sunday 16:30 I won't sleep if it's necessary. I've waited too long to captain a final for Arsenal and I wont give up till the last second." As a result Robin Van Persie, who comes back from an injury, will captain the side.
Theo Walcott is also out for the Arsenal. He twisted an ankle in the Stoke game. Abou Diaby is back after injury and suspension has kept him on the sidelines. Wenger has the rest of his squad to choose from. Birmingham Manager Alex McLeish has the luxury of staring his first choice eleven players.
Tactics
Arsene Wenger has yet to sway from his 4-2-3-1 formations and will keep it tomorrow. In principle it sees two players sat in front of the back four, allowing a secure base for the front four to attack. However in practice only one of those two sits to let a front five move all over the park covering for each other. This freedom of movement allows for the intricate passing style but also makes it very hard for the opposition defence to pick up their markers.
Birmingham are expected to start with a standard 4-4-2 formation. A brave move against Arsenal as the two central midfield players may find themselves exposed against three and will have a lot of tracking to do when out of possession. They may also find themselves chasing the ball against three central midfielders who will pop the ball off each other for fun, causing them to tire in the later stages of the game.
However playing two in the middle also allows them to play two up top and Zigic and Martins will be a handful for an Arsenal defence who sometimes struggle against big and direct opposition. They should take heart from keeping Stoke out on Wednesday but a 6ft7 Zigic will be a different prospect.
Expect and contradiction in styles. Birmingham will play long direct balls and will be slow on any set pieces to disrupt the Arsenal style. Expect nothing different from Arsenal who will pass the ball to death and will be buoyed by the relaying of the Wembley pitch in the same manner as the Emirates. This could be the ultra contradiction in football philosophies.
Key Clash – Wilshere v Ferguson
The outstanding Jack Wilshere has had an exceptional 2011 so far. Cementing his place in the Arsenal first team has seen him gain his first start for England. He put in a respectable 45 minutes for England against Denmark and followed that up with an unbelievable performance against Barcelona. It was staggering to see a 19-year-old play combative passing and skill full football in front of arguably the world's two best midfielders, Xavi and Iniesta.
In the absence of Cesc Fabregas, it will be down to Jack to keep the ball moving and find those incisive passes. He has also been the man who takes the ball from the defence to begin every Arsenal attack. Against Stoke on Wednesday night he astonishingly completed over 100 passes.
Barry Ferguson has a similar role in the City midfield. Fulham's Danny Murphy is the only player in the Premier League to have completed more passes than him this season. Whoever gets the most of the ball between these two will be able to stamp their control on the game. Allowing their side to move forward in possession the most may just be the way to the trophy.
Referee
Mike Dean will take charge of tomorrows' game. He has only officiated for Birmingham once this season, where is issued no cards. However in the three Arsenal games he has refereed this season he has issued ten yellow cards and one red.
Line-ups
Arsenal – Szczesny, Sagna, Djourou, Koscienly, Clichy, Song, Wilshere, Nasri, Diaby, Arshavin, Van Perise
Birmingham – Foster, Carr, Jiranek, Johnson, Ridgewell, Bowyer, Gardner, Ferguson, Larsson, Zigic, Martins
Details

Written by

Tom Varga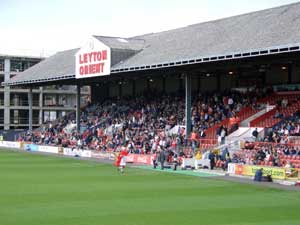 Following Arsenal's midweek high that was the victory against Barcelona, the Gunners will be facing a whole different kettle of fish as they travel to Brisbane road this Sunday. We've seen how lower league opposition can give Arsenal a test in earlier fixtures such as Leeds and Huddersfield and playing on a surface such as the Emirates in comparison to Brisbane road could see Wenger blaming a 'tough pitch' for a what should be a typical and challenging FA cup tie.
Form

Leyton Orient are currently on an 11 match unbeaten run which could see them playing with confidence in a tie in which they've got nothing to lose and everything to play for. Arsenal have been in great form of their own as they demonstrated against what is arguably Europe's best team but it is likely that Wenger will rotate his squad and bring in some fresh faces as they are the only team in England to still be fighting on all 4 fronts. Arsenal have a 100% record against Leyton Orient in the FA Cup and we'd have to look all the way back to 1915 to find a win from the O's against Arsenal in what was the second tier of English football.
Latest news

Djourou has recovered from a back injury and is back in contention for this game whilst Theo Walcott has also overcome a minor hamstring problem. Sagna is back after serving his suspension whilst Diaby is still suspended for his reaction against a challenge from Barton during the Newcastle game. Wenger, however, admitted that he would've have been ready to play anyway even if he was available.
As usual Arsene is likely to field a 4-3-3 formation but will perhaps bring in the likes of Chamakh, who didn't feature against Barcelona, for added physical presence. Wilshere is likely to be rested after putting in a shift mid-week, with Denilson coming in to help Arsenal keep possession and dominate the game. Arsenal will have to adjust swiftly because this tie will be a world apart from the free-flowing football that was on display in the Champions League.
Chamakh and Bendtner will be key players for the Gunners offering a physical presence upfront and with the form of van Persie making him one of the first names on the team sheet, they will both want to prove themselves as the no. 1 replacement should he get injured or need to be rested.
Referee
Kevin Friend who has refereed 13 top-flight games this term will be the man in black. He is known to be quite lenient with an average of 8 fouls before producing a card. This could suit the physical approach of Leyton Orient more so than the passing game of the Gunners.
Possible line-up:
Almunia; Sagna, Squillaci, Djourou, Gibbs; Denilson; Rosicky, Fabregas ©; Nasri, Chamakh, Bendtner